Northwest Community College and 14 other post-secondary schools will be getting some equipment upgrades.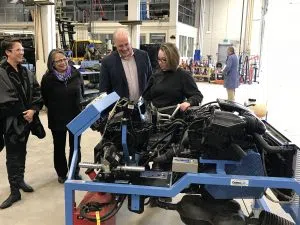 Premier John Horgan and advanced education minister Melanie Mark announced over $5.4 in funding to replace obsolete equipment and acquire the latest technology during a stop in Terrace Tuesday.
Training equipment funded by the program ranges from a computer lab set for a digital media technology program, to 3D printers, industry-standard cooking equipment, and hot water boilers and furnaces for plumbing and gas-fitting programs.
NWCC has purchased a table saw with a unique safety feature to protect students from injury, a used low-emissions vehicle for its automotive program, and a new industrial stove for its professional cook program.
"Having access to training on modern equipment means that, as I finish my training and enter the workforce, I will be very well prepared to work for employers anywhere," said Lucas Hnidan, NWCC automotive service technician student and Gitxsan Nation member in a news release.
NWCC President Ken Burt says the new equipment helps position students well for the future.